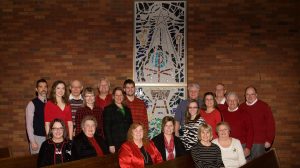 The Senior Choir
Directed by Louise Klopp, is responsible for singing regularly at church services and occasionally for other events. Members are anyone of high school age and older. Rehearsals are on Wednesdays, 6:40-7:30 pm, September through May.
The Praise Team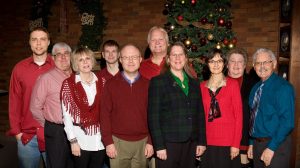 A musical group that adds contemporary praise music to the Sunday 10:30 worship. The core instruments used are: guitar (acoustic/electric), keyboard, drums, and bass guitar. Other instruments are used to compliment certain songs. The Praise Team rehearses on Wednesday evenings. If interested in the Team, contact director Louise Klopp or call 338-5626.
The Handbell Choir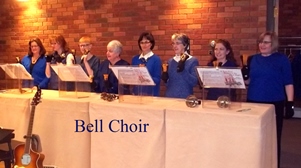 Directed by Louise Klopp, is open to anyone who is able to read music. They play at least once a month for church services, and rehearsals are scheduled as needed.
Sunday School Music
For children aged 2 years through eighth graders, who sing quarterly for church services in addition to participation in the Christmas program on the Sunday before Christmas. Rehearsals are during the Sunday School hour on Sunday mornings throughout the school year.
Miscellaneous Music Opportunities
Volunteers may provide additional special music for church services, such as vocal solos/duets/small ensembles, or instrumental solos/duets/small ensembles. Please email Twyla Freeman or call 530-2371.