Teachers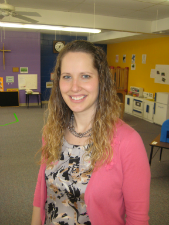 Name: Kaja Mueller
Position: Director/Teacher
Education: I graduated from Concordia University in St. Paul, Minnesota, with a Director of Christian Education degree.  My majors were in Parish Education and Administration along with a Lutheran Confessional minor.  I specialized in Youth Ministry.  For the past 8 1/2 years, I've enjoyed working as the Youth Minister for Our Redeemer Lutheran Church.  Recently, I transferred to the position of Director/Teacher of Our Redeemer Preschool and Family Life Director for Our Redeemer Lutheran Church.  I believe the joy of being a parent to my own growing young family has inspired me to minister to children in the early childhood years.  These experiences as a parent have molded me into the teacher I want to be.  I am blessed to love each child who walks into the preschool as if they are walking into my own family.
Why I enjoy teaching at Our Redeemer Preschool: One of my favorite things about teaching at Our Redeemer Preschool is being able to watch each child grow in their awareness of who they are and that they get to learn that they have been wonderfully created by God our heavenly father.
Favorite
Snack Food: Sugar Snap Peas and Chocolate
Bible Verse: My confirmation verse – Isaiah 41:10 "So do not fear, for I am with you; do not be dismayed, for I am your God. I will strengthen you and help you; I will uphold you with my righteous right hand."
Color: Green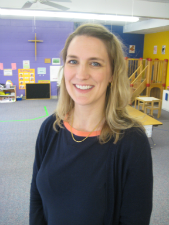 Name: Kate Ramsey
Position: Assistant Teacher
Education: I graduated from the University of Iowa with a bachelor of science degree in biology and a minor in chemistry. I became a stay-at-home mom after having girl/boy twins, and three years later we had our youngest daughter. It has been the adventure of motherhood that led me to my new passion of teaching young children! I have also enjoyed volunteering at my children's elementary school and being a Sunday school teacher here at Our Redeemer for the past four years.
Why I enjoy teaching at Our Redeemer Preschool:
Each child comes to class with his or her own unique, God-given personality, which makes it so enjoyable to watch each of them grow in every facet over the school year. The opportunity to encourage them and to make a difference in their lives is very rewarding!
Favorite
Snack Food: Popcorn
Bible Story: "For God so loved the world, that he gave his one and only Son, that whoever believes in him should not perish but have eternal life." ~ John 3:16 (Essence of Christianity)
Color:  Blue
Registration
Children ages 3-5 are eligible to attend the Preschool. Registration opens in January for the next Preschool session. Current members of Our Redeemer Lutheran Church, currently enrolled children and their siblings are given the opportunity to enroll before the general public. Enrollment is limited to 25 children per session. Depending upon available openings, children who are toilet trained may enroll at any time of the year after their third birthday.
Members of Our Redeemer Lutheran Church who attend church services at least 50% of the time receive a 20% tuition discount for each child enrolled. A 20% tuition discount is also offered to families with multiple children enrolled.
Enrollment Forms
Print, complete, and return the linked PDF forms to the Director of Our Redeemer Preschool.
Tuition and Fees
(M/W/F)             Preschool Program                                          9:00am-12:00pm              $190/month
(M/W/F)             Preschool Program with lunch                         9:00am-12:45pm              $250/month
(T/TH)                Preschool Program                                          9:00am-12:00pm              $140/month
(5 Day)               Preschool Program                                          9:00am-12:00pm              $315/month
* An AM snack will be provided by a preschool students.
* Our Preschool follows the Iowa City School District year schedule starting after Labor Day and ending before Memorial Day.
* Openings are determined on the basis of the number of children allowed on-site, at one time, as stated by the preschool's state license. Children may enroll throughout the school year as spaces allow.
* Scholarship information is available upon request.
* Ask about extended care.
Daily Schedule starting September 2015 through May 2016
9:00am                                                     Drop Off
9:00am – 9:25am                                     Large Group Circle / Calendar Time
a                                                               Line Leader
a                                                              Show & Tell on assigned days
9:25am – 10:30am                                   Small Group
a                                                              Learning Centers
a                                                              Time with Teachers
a                                                              Arts & Crafts
10:30am – 10:50am                                 Bathroom/Snack *
a                                                              * Birthday celebrations will occur during this time as well.
10:50am – 11:20am                                 Outdoor Play
11:20am – 11:45am                                 Bible Lesson* / Story Time*
a                                                              * Guest Visitors will come during this time and minor schedule changes will occur
11:45am – 11:55am                                 Music / Closing
11:55am – Noon                                      Tables / Prayer
Noon                                                        Dismissal
Noon- 12:45pm                                       Optional Lunch Time on certain days
                                                                Lunches are provided by the student's family